Return to Headlines
Clay County Academic Team Updates
The 2018 Clay County Academic Team season encompassed everything that makes Academic Team competition fun, exciting and educational. Six of the County's High schools competed against each other in a highly academic high school tournament. Each team is composed of four players that can be rotated in between three rounds. This is not a quick response, trivial pursuit contest. Instead, it is a slower-paced tournament in which players are asked questions from the areas of language arts, mathematics, science, social studies, the fine arts, world languages (French and Spanish), physical education, health, and technology. The questions are written by high school educators from throughout the state.
Our 2018 Clay County Junior High School champion is Orange Park Junior High School.
Our 2018 Clay County JV High School champion is Oakleaf High School.
Our 2018 Clay County Varsity High School champion is Ridgeview High School.
The next step in the Academic Team season is to take the All County exam. This is for secondary school players who are interested in being selected to the All County team. Players will take a written exam. Exam results along with their season performance record will determine the 6 finalists, 4 players and 2 alternates.
The All County team competes in the 34th Annual Commisioners Academic Challenge,
April 11
-
13
at Walt Disney World. The event is supported by the Florida Commisioner of Education and is sponsored by the Florida High School Athletics Association.
Ridgeview High School- Regular Season Varsity County Champs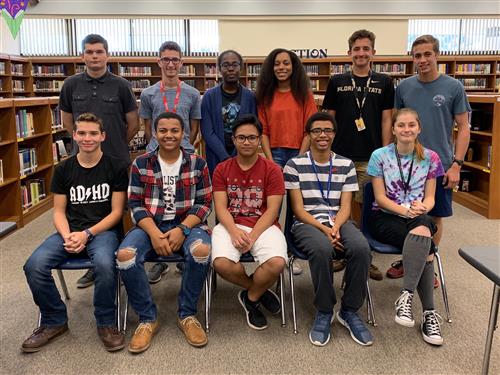 Back row: Trevor Taylor, Lucas Cathey, Alaa Osman, Jasmine Mackey, Hunter Click, Kyle Bisson
Front row: Nathan Kauffman, Alijah Chalas, Christian Jalligao, Jayden Fye, Brooke Petrosky
Not pictured: Matthew Petty
The Ridgeview High School JV team was almost entirely new to Academic Team, and they ended up in 4th place overall

, bu

t they showed continued improvement throughout the season!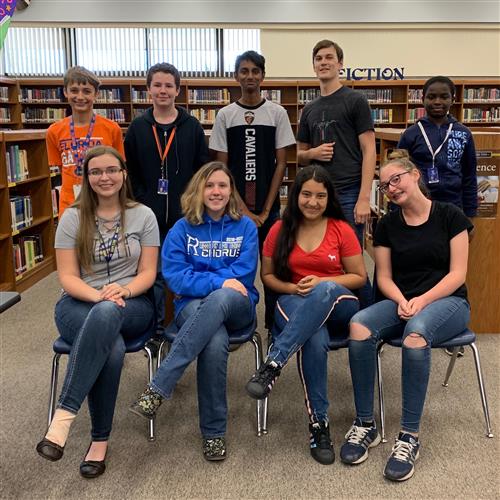 Back row: Lucas Bisson, Trace Choulat, Kevan Dhabi, Hunter Wright, Mohammed Hassan
Front row: Summer Lewis, Adelaide Lasater, Nicole Palma, Nicole Lunsford
Not pictured: Zack Bowden