Return to Headlines
Clay County Exceeds 90 Percent Graduation Rate for First Time in History
Clay County District Schools has raised the bar once again by achieving the best graduation rate in its history. The Florida Department of Education released the 2017-2018 graduation rates on Wednesday, which validates the incredible work being done to ensure that students are truly "full option graduates" in Clay County.
Clay County District Schools demonstrated an increase of 2.3 percentage points from the previous year, progressing from 88.4 percent in 2016-17 to 90.7 percent in 2017-18. Over the last two years, Clay County District Schools has improved its graduation rate by 6 percentage points and 31.9 percentage points since 2003, reaffirming that Clay's students are better prepared to successfully transition to the workforce, military or college. This latest release from the Florida Department of Education also revealed that eight of the nine targeted subgroups of learners have reached a record high, illustrating that Clay County District Schools is focused on improving the academic well-being of every learner.
"The graduation rates recently released by the Florida Department of Education show that Clay County District Schools is on an upward trajectory. I am ecstatic that we have once again rewrote the history books. Many strategies have contributed to this exciting outcome over the last two years. Our data signifies the hard work and efforts put forth by our school leaders, teachers, college and career coaches, school counselors, and support staff. Collectively and collaboratively, we have created a culture that demands ownership, establishes high expectations, and allows learners to fulfill their aspirations as indicated by meeting graduation requirements. This is a remarkable accomplishment for our community. I am proud of all stakeholders who have positively impacted children's lives by preparing to compete inside and outside of our classrooms," said Superintendent Addison Davis.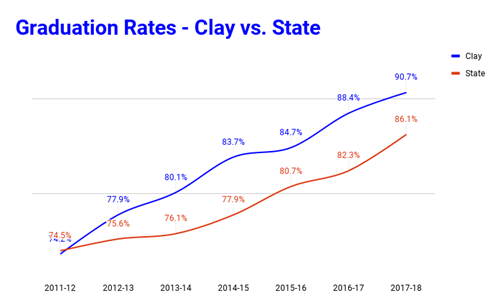 Graduation Rates by School

As we take a deeper dive into Clay County District Schools' graduation rate, the data released indicates that all high schools demonstrated an increase in their graduation rate or remained well over 90%. The overall increase in graduation rate has been supported by a new tracking system providing a powerful tool for principals and assistant principals to monitor, which was then translated into hard work and energy from teachers and college and career coaches.
Graduation Rates by Subgroup

Once again, Clay County District Schools set record high subgroup data points as African-American, Hispanic, White, At-Risk, ESE, and Economically Disadvantaged students climbed to an all-time high. These accomplishments are a direct reflection of the schools and district focus on eliminating the achievement gap in order to create access and opportunity for all learners. This information provides evidence that Clay County educators are continuing to differentiate and scaffold instruction for all students with the goal of preparing students to meet grade level expectations.
Post-Secondary Readiness Rates by School
While there is always conversation related to whether or not school districts are preparing students for post-secondary readiness, it is clear that Clay County District Schools is preparing its learners for a successful transition out of high school with the abilities and skills necessary to compete globally. Post-Secondary Readiness (PSR) data confirms that the district has established a new record in the areas of both mathematics and reading. In Reading PSR, Clay County District Schools posted a 6 percentage point increase as compared to a year ago and a 21percentage point increase over the last two years. In the area of Mathematics PSR, the district increased 10 percentage points as compares to a year ago, and a 22 percentage point increase over the last two years. This data is powerful and highlights the culture established in Clay County District Schools as all seek to prepare students to become college and career ready!
To view the state graduation rates, visit the PK-12 Public School Data Publications and Reports on the Florida Department of Education's website.