Return to Headlines
Clay County Schools More Than Triples Number of "A" Schools Since 2016
The Florida Department of Education released school grades for the 2018 -2019 school year on Thursday. Under the leadership of Addison Davis, Clay County has not only maintained its "A" rating, but improved in percent of total possible points earned. The District has improved its academic standing from 64 percent ("A") to 66 percent ("A"), according to the Department of Education's scale. Overall, Clay County District Schools ranks 8th in the state for total points earned and is tied for 7th in the state for percent of total possible points earned!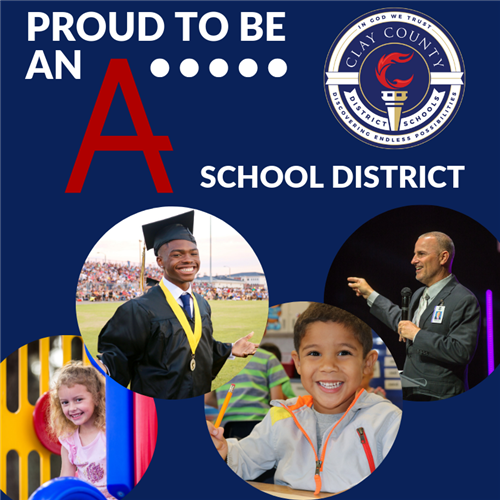 "I am ecstatic about the results released from the Department of Education. For a second year in a row, our teachers, leaders, support staff, district personnel, board members, and students have demonstrated their abilities to give best effort and create a world-class education in Clay County District Schools. I am appreciative for the opportunity to lead an amazing school district, and I will continue to work tirelessly on behalf of our children. Our mission continues to become the top school district in the state," said Superintendent Addison Davis.
"I'm delighted at the progress that Clay County District Schools continues to make in academics. This is the first time since 2012 that the District has consistently achieved an "A" district rating. I look forward to assisting our school system in becoming the best school district in Florida," said School Board Chair Carol Studdard.

The following are highlights from Clay County's 2018-2019 results:
Middle School Acceleration improved by 5 points
High School Acceleration improved by 6 points
Graduation Rate improved by three points (district record at 91% graduation rate)
ELA proficiency improved by one point
ELA overall gains improved by one point
Overall Math proficiency improved by one point
All Clay County secondary schools are rated "A" or "B"
88% (24 out of 27) of elementary schools are now rated "A" or "B"
73% (8 out of 11) Title I Schools are now rated "A" or "B"
7 schools improved at least one letter grade
21 of 40 schools showed overall gains